Interview and readings from Ali Abolrezaei, banned from teaching and public speaking in Iran because of his writing, and Abol Froushan, one of the most important thinkers in post-exile literature.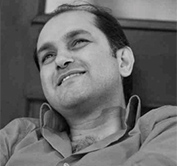 Ali Abdolrezaei
Biography:
Ali Abdolrezaei's poetry shows that the contemporary art of Iran has been hugely influenced by the traumatic historic events of the last three decades and that these events have affected millions of Iranians in one way or another. Abdolrezaei is young and represents the aesthetics and voice of a new, multi-faceted generation of Iranians and their cultural chasm with the past in the face of a repressive political regime. Abdolrezaei gained reputation as a poet, speaking in the voice of his time, in the early 1990s and received wide critical attention. His poetry tackles difficult themes with a mastery of craft. Ali Abdolrezaei's poems are translated into many languages such as English , French ,German , Spanish , Dutch ,Swedish ,Finnish ,Turkish, Portuguese ,Urdu , Croatian and Arabic.
Ali Abdolrezaei was born on 10 April 1969 in Northern Iran. He completed his primary and secondary education in his city of birth and after receiving his diploma in mathematics passed the nationwide university entrance exams. He graduated with a Masters degree in Mechanical Engineering from Tehran Technical and Engineering University.
He began his professional poetic career in 1986 and became one of the most serious and contentious poets of the new generation of Persian poetry. Abdolrezaei has had an undeniable effect on many Persian poets through of his poetry as well as his speeches and interviews. He is also one of the few poets who succeeded in expressing his unique poetic individuality. His 31 varied books of poetry –In Riskdom Where I lived, Shinema, So Sermon of Society, Improvisation, This Dear Cat, Paris in Renault, More Obscene than Literature, Hermaphrodite, A Gift in A Condom, You Name this Book, Only Iron Men Rust in the Rain, Terror, La Elaha Ella Love and Fackbook – endorse his poetic creativity and power. Nearly all well-known poets and critics of Persian poetry have written about Abdolrezaei's work.
In September 2002 after his protest against heavy censorship of his latest books such as So Sermon of Society and Shinema, he was banned from teaching and public speaking. He left Iran and after staying a few months in Germany, followed by two years in France, he moved to London, where he has been living for the last 6 years.
Abol Froushan
Biography
Abol Froushan left the Shah's Iran to live and study in London in 1975. In 1979, he received his BSc in mechanical engineering from Imperial College, University of London. In 1983, the sudden death of a seven-year-old relative in a car accident set Froushan off on an uncharted path of writing poetry. In the meantime, at Imperial College, Abol completed his Masters in social and economic studies and his PhD in fluid dynamics (which was awarded the same day Abol was granted UK Ordinary Residence). His British passport was issued on Valentine's Day in 1990. On it, "Place of Birth: Tehran, 10/10/1957".

Since its eventful beginning in 1983, Froushan's career in literature and performance has encompassed poetry, video, audio recordings and literary criticism, and has run alongside his career in high-tech industries, from nuclear engineering to information architecture for banking and insurance industries. His work since 1986 has taken him to numerous places, including London, Manchester, Bristol, Connecticut and Toronto. Since 2006, Abol has built artistic collaborations with the well known Iranian poet Ali Abdolrezaei. Together with Parham Shahrjerdi and Mansor Pooyan, they formed London Skool, a band of multilingual poets and critics whose aim is to create poetry and texts through a hybridisation of languages, genres and lifestyles, challenging accepted norms, shaking up literary standards and proposing new directions for exile and post-exile literature.

Abol Froushan has published two selections of his own poetry: A Language Against Language (in English) (Exiled Writers Ink, 2008) and the bilingual volume, I need your desert for my sneeze (in Persian & English) (PoetryPub, 2009). He has also been published in the anthology Silver Throat of the Moon (ed. J. Langer; Five Leaves, 2005) and the Exiled Ink magazine, as well as in multimedia web-based publications including www.photoinsight.org.uk and Poetrymag. His English translations of Ali Abdolrezaei are In Riskdom where I lived (Exiled Writers Ink, 2008) and the forthcoming Sixology (PoetryPub, 2010). He has also translated Parham Shahrjerdi's Risk of Poetry.

He has publicly performed his poetry in select London venues such as the Queen Elizabeth Hall, the National Portrait Gallery, the Poetry Café, New End Theatre, Arcola Theatre, the Waterman Centre, Scala Theatre and Riverside Studios.

Podcast: Play in new window | Download