All profits from the sale of our books and tickets for events go back into our charitable work.
Castaway Heritage
How does it feel to be a castaway in the UK today?
Our latest book is based on interviews with refugees and asylum seekers living in Brighton and East Sussex, and the people who work with those communities. It tells their stories, in their own words. The Castaway Heritage Project was made possible through the generosity of the Heritage Lottery Fund and the support of those involved.
Published by Refugee Radio Books 2019. ISBN 978-0-9929374-3-0
For just £10 plus £2.57 postage and packing. Get yours today:
Schools and libraries please contact us directly for a free copy of the book and our new schools pack.
Takeaway Heritage
Discover the hidden history of takeaways, restaurants and kebab shops.
Generations of migrants and refugees have changed the way we live and eat today. But their story has been untold. Until now.
Join us on an adventure through the multicultural backstreets of Brighton as we interview the unsung chefs, waiters and managers and lift the lid on the UK's cultural history.
Published by Refugee Radio Books 2016. ISBN-13: 978-0-9929374-2-3. For just £10 plus £2.57 postage and packing. Get yours today:
Refugee Radio Times
Voices of Asylum, Identity and Resistance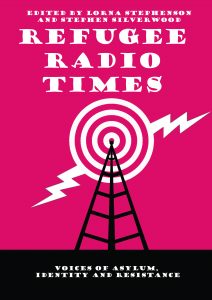 Refugee Radio Times is packed full of personal stories written by people who have sought refuge in the UK: people who have survived the worst that the world can throw at them and are now speaking out about those experiences.
This book shares the voices of those who have battled torture and trauma in their journey to the UK, as well as those who are still on the road in the makeshift camps of Calais.
It includes people who have just arrived, as well as those who have lived her for generations. Featuring Turkish Kurdish, Burmese, Afghan, Cameroonian, Iranian and Sudanese writers alongside UK journalists, the book covers everything from identity, religion and persecution through to detention, mental-health and resilience. It is an essential read for anyone who wants to learn the true story of asylum today.
Published by Refugee Radio Books 2014. ISBN-13: 978-0-9929374-0-9
For just £5. Get yours today: